The Islamic Society of Milwaukee and its members are deeply saddened by and unequivocally condemn the savage attacks carried out by the terrorist group ISIS against innocent civilians in Paris. Earlier this week, this same vile group killed scores of innocent people in Beirut, Lebanon. Over the past few years, ISIS extremists have killed thousands of innocent people in Syria and Iraq, mainly Muslims, but also including American journalists, Yazidis, Christians and others.
ISIS has demonstrated once again that it is nothing more than a barbaric movement that lacks any sense of humanity. We reject any attempt by members of this group to associate themselves in any way with Islam or Muslims. ISIS represents everything that Islam condemns. As demonstrated by their actions in Paris and around the world, ISIS represents pure evil and hatred.
ISIS seeks to spread fear, chaos and disorder, whether in France, Lebanon, Syria or Iraq. All people of conscience must stand together, united in their humanity and in their resolve to work together to combat such an evil group. We must also resist those who will try to use the heinous actions of ISIS to spread divisive rhetoric and dissension within our societies. Such reactions, whether aimed at Muslims, immigrants or others, will only feed into the goals of ISIS.
As a Muslim organization, we will do everything in our power to vehemently oppose any group or individual that tries to misuse our faith to justify their criminal and barbaric behavior. We have always condemned terrorism, whether by individuals, groups or states. We are signatories to the 2005 statement issued by the highest Islamic juridical body in North America which reaffirmed Islam's absolute condemnation of terrorism and religious extremism. See: http://www.npr.org/templates/story/story.php?storyId=4775588 In September, 2014, leaders of our organization also signed an internationally published letter condemning ISIS and refuting its un-Islamic ideology. See: http://www.jsonline.com/news/religion/local-muslim-leaders-join-denunciation-of-islamic-state-b99359212z1-277146101.html
The actions of ISIS will only increase our resolve to stand united with all those in our country - people of many faiths and backgrounds - against those who seek to harm all of us. We pray for the comfort of all those around the world who are the victims of extremism and violence and we pray for the safety of all of us and our neighbors around the world.
The Wisconsin Council of Islamic Centers (which includes the Islamic Society of Milwaukee) issued a similar statement which was signed by the following centers:
American Albanian Islamic Center of Wisconsin
Islamic Center of Sheboygan
Islamic Center of Wisconsin (Appleton)
Islamic Society of Milwaukee
Islamic Society of Wisconsin (Green Bay)
Masjid Al-Huda (Milwaukee)
Masjid Al-Quran (Milwaukee)
The statement was also signed by the Milwaukee Chapter of the Muslim American Society and the Milwaukee Muslim Women's Coalition.
Hajj Mabroor to our community's 2015 Hujjaj!
Br. Ahmed Quereshi, the President of the Islamic Society of Milwaukee wrote an open letter to Scott Walker,the Governor of Wisconsin regarding his statement that there are a "... handful of reasonable, moderate followers of Islam who don't share the radical beliefs that these Islamic terrorists have." This letter was signed by a number of Islamic organizations and interfaith partners. To read the letter, please view the following link: Open Letter to Scott Walker
One of the most important functions of an Islamic Organization is its outreach efforts into the general community. The recent remarks by republican presidential candidates Ben Carson, Donald Trump and Bobby Jindal are indicative of the level of ignorance that exist with regard to basic knowledge about Islam and Muslims. It is part of our Muslim duty to educate others and to exhibit proper Muslim character at all times.
Alhamdulillah, the ISM reaches thousands of people every year. Besides regularly hosting visitors at the ISM, a number of ISM staff members speak to individuals at various churches, schools, universities, business organizations and other venues.
This past weekend, the ISM was happy to be a participant in the city-wide "DOORS OPEN MILWAUKEE" program. As part of the program, the ISM had over 600 visitors. Almost all of the visitors had never been to a mosque before. Based on evaluations and emails that we received, those who attended were very happy with the experience.

Alhamdulillah.
Below are photos as well as comments which we received.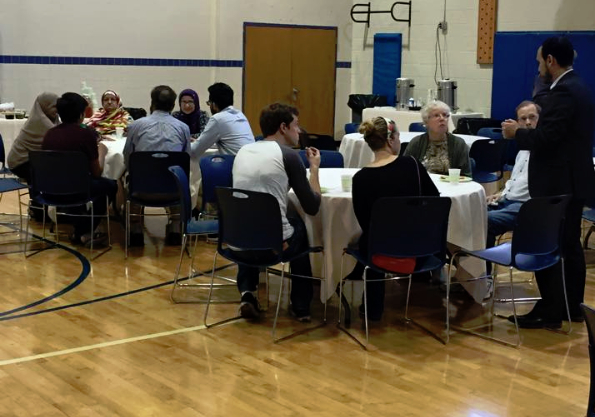 "I was impressed by how welcoming the people I interacted with were. I think the ISM is a great contribution to the greater Milwaukee community."
"Had some misconceptions cleared up. Great hospitality. Thank you!"
"Your tour guides were very knowledgeable and patient. The signs in the gym were very well done and a great source of information. Thank you for opening your doors and welcoming us into your community. It is a wonderful day to promote peace and cross cultural understanding."
"Very open and upfront. I always wanted to see what it was like and now I do understand about a few things. It was great. Thank you and the food was wonderful."
"Thank you so much for being a part of this. Everyone was so kind. Welcoming and clearly willing to tackle touch questions with honesty."
"Thanks for the opportunity to see the building. I grew up in this neighborhood and never been inside of the building."
" I am so happy you were open as I know nothing of Islam & my guide told me a lot. Would like to learn more."
"Thank you for lunch. We are certainly similar in our beliefs than different. God bless all of you who prepared this Open House."
The Islamic Society of Milwaukee has purchased a new facility located across the street from the UWM Student Union. The former church building was acquired in April 2015. Located at 2223 E. Kenwood Boulevard, the new facility is intended to serve the students and staff at UWM as well as the Muslim community located on Milwaukee's east side.